The list of players and celebrities set to feature in Fortnite's Pro Am Tournament at E3 keeps on growing. With a total of 50 players and 50 celebrities making up 50 different teams, Epic Games has slowly been revealing more names as the event approaches. We now have the full roster of who is appearing and who is teaming up. Among the names are established streamers, YouTubers, eSports Players, sports stars, musicians, and actors.
Here is an exhaustive list of the 50 teams set to jump into battle.
Ninja and Marshmello
Myth and Paul George
Pokimane and Desiigner
Markiplier and Joel McHale
Gotoga and Demetrious Johnson
Ali-A and Pete Wentz
Willyrex and Prince Royce
Xperthief and Janina Gavankar
Nadeshot and Tyron Woodley
One_Shot_Gurl and jack Falahee
King Richard and JT Brown
Stonemountain64 and jordan Fisher
Berkcan and Ryan Cartwright
Darkness429 and Marcus Scribner
Orkun and Jordyn Jones
Cdnthe3rd and Xavier Woods
Lachlan and Robbie Amell
Muselk and Liam McIntyre
Lolitofdez and Ron Funches
Jeriicho and Dillon Francis
Cizzorz and Reggie Jackson
Noahj456 and Madilyn Bailey
Skyyart and Nathan Kress
Sypherpk and Tarik Cohen
Izak Live and Drezo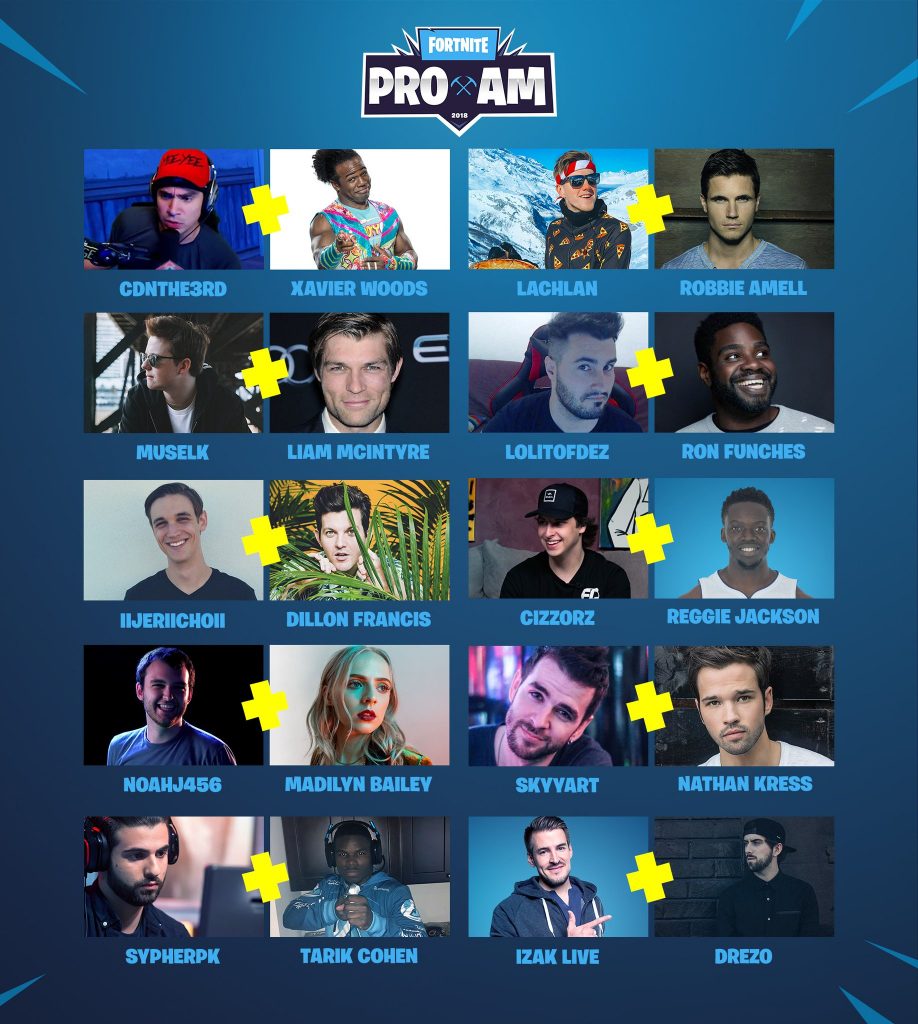 The tournament has a prize pool of a huge $3 million that the winners can donate to the charity of their choosing. The event kicks off in conjunction with E3 on June 12th at 3:30 PM PST, or 7:30 AM HKT (June 13th). The stream will be live on all of Fortnite's official channels on Twitch, Youtube, Facebook, Twitter, and Mixer.
During E3, Epic Games are expected to announced a Switch port for the massively popular Battle Royale game and we imagine many more goodies.